YouTube is a large platform that has given many Creators a fair opportunity to grow and monetize their channels. There are many ways you can use it to monetize your channel. Monetization serves as a significant source of income for many Creators on YouTube, and this allows for adding an extra stream of revenue. There are plenty of ways to monetize your account; here are a few of the most popular ways to monetize your account.
Ways to Monetize Your Account
YouTube Partner Program
One of the best ways to begin monetizing your channel is by joining the YouTube partner program. To become a member of the YouTube partner program, there are specific criteria that you will need to fulfill. The YouTube monetization policies Firstly require you to abide by YouTube community guidelines.
You must live in a country where the Youtube Partner Program is accepted.
The partner program has begun in South Korea, Taiwan, Canada, and the United Kingdom.
It would be best to have no active community strikes on your channel.
You must have advanced features turned on youtube.
Make sure Two-step verification is on.
To become a partner of a youtube partner program, you must have a Google Adsense account and a link to your channel.
The eligibility criteria also include that your channel needs to have a minimum of a thousand subscribers, and with this, you should have four thousand watch hours in the past year.
For YouTube shorts, you must have one thousand subscribers, and along with this, you must have ten million views.
These are just standard eligibility criteria; after you have finished applying to the program, your channel will undergo a standard review process, where your channel will be reviewed to determine whether it abides by the YouTube Standard policy.
Here's How You Can Apply
Go to your YouTube Account.
Then click on your profile picture.
Go to YouTube studio, and click on Earn, which is present on the left menu.

Select apply.

Then select Start to Review and accept terms and conditions.
Set up an AdSense account. If you already have one, then use that account.
The application process may take up to ninety days for review. If you have yet to succeed in passing your application on the first try, you can always try on the second. After you have become a member, you will start earning with youtube studios, where your videos will have watch page ads. Shorts feed ads and many more such things.
This is just one of the methods of monetizing your youtube account. There are plenty of other ways to monetize your account.
YouTube Shorts Funds
YouTube shorts fund is another medium that allows creators on YouTube to monetize their YouTube channel. In the past year, 2021-2022, through YouTube shorts fund, 100 million dollars were distributed among creators through the YouTube shorts fund. YouTube shorts are like Instagram reels; creators can create reels for up to 60 seconds.
In this, YouTube will pay you forty-five percent of revenue, which will be distributed. To be eligible for being a member of the YouTube shorts fund, one must have a thousand subscribers, and one must have ten million shorts viewed in the last ninety days.
Marketing Using Influencers
Using influencer marketing to monetize your account is a brilliant idea. You can advertise, work with brands, and use your following here. By doing this, you may significantly increase both the brand's and the audience's benefits. Influencer marketing can reach a large audience and generate consistent income for you. While generating stable income is easy, one needs high channel engagement. Aim to produce much more material that is targeted towards your audience and resonates with them.
Paid Sponsorship
Another way for monetizing a YouTube account is paid sponsorship. In paid sponsorship, brands pay you to create content, review their product, and give feedback on your channel. When discussing paid sponsorship, all parties benefit, including the creator, viewer, and advertiser.
The type of content you have to create may vary per the advertiser's need. They may ask you to promote the product or merely review their products. This helps the brand to create awareness about the product among the audiences. The only disadvantage is that gaining sponsorship takes time and requires high engagement.
Merchandising
Selling products on YouTube holds excellent potential and has grown to be a substantial source of income. Ensure the design you choose for your YouTube stuff showcases your original creations. The variety of the work you will offer for sale should be substantial. Using the Merch Shelf feature, you may showcase your designs and merchandise beneath your videos on YouTube.
On a desktop, it can show up to twelve products; on a mobile device, it can show three. You must be a member of the YouTube Partner Programmed and have your channel approved for monetization in order to use this function. More than ten thousand people should subscribe to your channel. Your channels' material ought to be geared towards adults rather than children.
Affiliate Marketing
Affiliate Marketing is another excellent practical way for you to monetize your account. If you have observed creators on social media platforms, they leave a link to all the products they have used in the description below. When someone follows and makes a purchase by using your referral link, you are commissioned some amount from the sale.
Affiliate programs are a great way to start. You don't need any cost to start, and it's straightforward. You can have very targeted products and ads which you can sell. The returns you gain are very high on Affiliate marketing.
YouTube Membership Programs
You can start your channel's subscription if you have a sizable following. Your channel's subscribers can sign up here to become members. They receive numerous benefits, such as access to unique materials and more. While the revenue from memberships is not constant, it might fluctuate, and the amount you can earn at first will depend on who is accessing your account. Having at least a thousand subscribers is the only need to create a membership on your channel.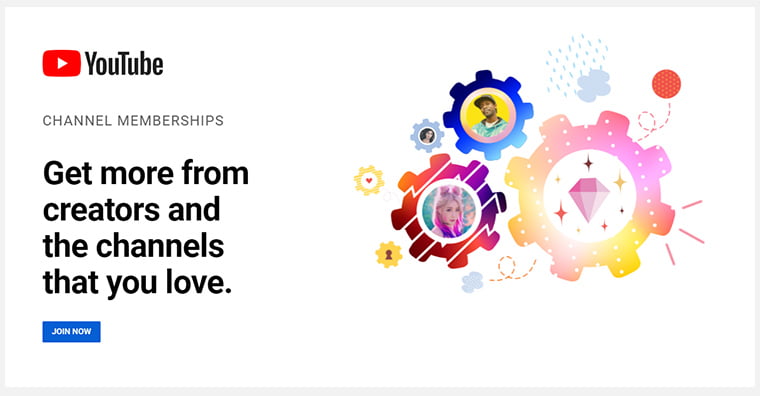 Conclusion
Creators can monetize their accounts and channels on YouTube, which will help them develop and become experts in their specialized fields. YouTube has developed into a reliable source of revenue, and many people now profit from it. When you have many subscribers, likes, and views, a Youtube partner program or monetization strategy will work best for you.
Before you leap to conclusions, there are many factors you should be aware of while monetizing your account. Monetizing is the process through which your videos can earn you money.
The top ten ways to monetize your account are listed below.
Many people have found Youtube to be a fantastic platform, and they have discovered the finest ways to monetize and increase money through various media.